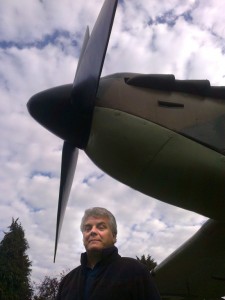 Each year has its developments, events and challenges, some of which can be foreseen and some can not. Winston Churchill is reputed to have said something to the effect that 'history is just one damned thing after another', and I venture to suggest that so is the present, and so will be the future. History is a fascinating subject from which we can learn a lot. It can also be a stern, and sometimes fickle, judge. Maybe what we call history is actually just how we report an experimental science that comprises a never ending sequence of overlapping natural experiments in which there are infinite variables, few of which can be controlled. The reports of history state what happened, what factors influenced what happened, and the conclusions that we draw. From these conclusions we seek to develop explanatory theories, and then we use the theories to help plan our decisions and future actions. In this way we seek to avoid chaos, and to control the future.
The AFC is an organization rich in history. It is a complex web of both small and great events, decisions, dreams, and outcomes. Our existence is rooted deep within the Club's past as well as looking forward to the future, while also dealing with the immediate issues of the present. But the past is past. Even though it can be remembered fondly, and we can learn from it, it is our concern for the future that should guide our present decisions.
This prologue is by way of introducing some of the plans we have to 2016, and it is also a reflection on the approaching departure of HXT. Elsewhere in this issue of the Newsletter I believe there is an excellent article by Clark Closkey which describes something of his own experience and relationship with HXT. It has truly been a great aeroplane for the club and many of us will be sad to see it go. I hope that it will continue to fly for many more years and deliver as much enjoyment and satisfaction to its future owners as it has to our members. It would not be right to let such a departure go unmarked, so we plan to hold an appropriate event very soon. The aircraft will probably have already gone by the time you read this newsletter – there has been strong interest from potential purchasers and we expect to finalise the terms of sale within the next few days.
In due course we will pick up the threads of the 'third aircraft' discussion, re-visit the issues, look at how things have changed, and think about what our third aircraft should be. We obviously tend keep our aircraft for a long time, and it will be important to choose the right one, not just for now, but for five, or probably at least ten years in the future. In the meantime we will have two club aircraft available, GMA and IUK, and I expect that their usage will increase to satisfy demand. This will help share their fixed costs better across more hours. We will also save whatever HXT's maintenance has been costing, save on insurance, and have a vacant hangar available for rent on a temporary basis.
For 2016, possibly for the first time ever, the board has pre-arranged the presenters for all the General Meetings from January right through to December. One or two are yet to be confirmed, but it is truly an impressive schedule. Our first speaker, in January, will be Kevin Cuthro, and he will relate his experience flying the North Atlantic in a single-engine Cessna. Many of us have dreamed of epic trips, but this one was certainly special. I expect that the complete schedule appears elsewhere in the newsletter, and is also posted on the club website. It will provide a focus to enable members to invite their friends and associates into the club – guests are welcome and encouraged at all club events.
SS