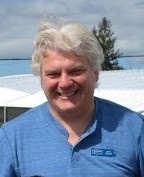 This will be my final Newsletter contribution as President. It has been a busy year for the Board, and it won't finish until we hand things over at the AGM. There have been a great variety of issues to deal with. We have made good progress on some fronts and less on others. There will be no shortage of things to occupy the new President and Board. Two particular highlights of the past year have been the continued healthy recruitment of new Members, and the really good program of speakers at our monthly General Meetings. I believe these things are connected, and I am sure they will continue.
As well as me, there are three other Board members who are not seeking re-election. They are our Vice-President Duncan Poynton; Treasurer Kevin Mickleby; and Secretary George Aug Thin, and I want to put on record some statement of appreciation for what they have contributed to the Club during their time in office.
Duncan has been on the Board many times previously, in various roles. He is a reliable contributor to decision making and to getting done whatever is needed to keep the Club running the way it should. His most frequent previous role was as Aircraft Maintenance Director, and he has continued to back up Brian as necessary. Another role that he has performed for some time is to be responsible for hangar maintenance. He has done everything from repairing many things himself, to organizing official inspections, showing hangars to new tenants, and to obtaining quotations for major repairs and upgrades. His title for the past year has been Vice President, and that gave him particular responsibility for organizing speakers at our monthly meetings. I have already mentioned how well this has worked out. One of the first things this Board did was to aim to publish a complete program of speakers for the year. This was a joint effort by all the Directors, and we did achieve it. However, it was Duncan that made the program actually work. There were many changes to cope with, including some last minute cancellations. His ability to move things around and find solutions resulted in the program that was delivered, and as an added bonus we have a number of speakers already lined up for the coming year.
Kevin took over as Treasurer from Tom Grozier and has done an excellent job. We have indeed been very fortunate in our Treasurers. Our finances are in excellent shape and our procedures and controls work well. At the AGM Kevin will provide Members with a full financial statement for the past year, as well as some projections for the future. But he has not restricted his contributions entirely to ensuring the Club's financial wellbeing. He has also taken a leading role in many discussions and initiatives, particularly in organizing the hangar operation. His rigorous approach and realistic attitude has re-focused many discussions and contributed to numerous good decisions. The Treasurer's job is very demanding. It does not admit delay or anything less than a professional approach. Kevin has filled this role extremely well.
George has been a very effective Secretary. The way that he types up complete minutes actually during the meeting, and then posts them to the website almost immediately after the meeting is amazing. And he does this with almost no errors or omissions – I don't think there has been any need for corrections even once this past year. He also passes on a constant stream of messages via email – many of which come from or through me. What you probably don't know is that he doesn't usually send things out the boring way I write them. He usually improves them, makes them easier to read, and even adds cartoons. An effective Secretary is an extremely valuable asset, but I doubt he is planning a career change any time soon.
I have made no attempt to fully communicate how much we owe to Duncan, Kevin and George. They were all already on the Board when I took up this most recent term as President, and they had done many valuable things in previous years as well. I can only write of what I know myself, and that is more than enough to ask you all to join me in thanking them.
I have also made no attempt to mention our other Board members. To get an individual mention in the Newsletter they will probably have to wait until they decide to stand down. They have all contributed greatly to the work of the Board over the past year, and their support and advice has been essential to my attempt to fill the role of President. I will miss our meetings and discussions. But I am sure the new Board will get along very well without me.
steve