September is here already – my kids are back in school and it feels like a new year is rolling out in front of us.  The same is true for our Flying Club.  We have a pig roast to look forward to later this month and next month is our Annual General meeting where we get to partake of a sumptuous feast.  Autumn is, indeed, a time of harvest and reflection.  What better place to reflect on the year than here, in this column?  But first, I must start with a message of thanks and appreciation to all the membership: I thank you for the trust that you have placed in me and I hope that I have lived up to your expectations.
Airshow
We had a very good turnout for Airshow this year: I'm proud of our volunteers and I'd like to say thanks to each of you for the time and effort that you have invested in our club and in making the Airshow work.  There are too many people to name here, but I'm hoping that some pictures get out showing the various activities that went on at Airshow.  I'd like to express a special thank-you to the Airshow captains!  Without your leadership, events like the General Aviation display, the fly-in camping, the Broken Prop and the Campground would not happen.  Thanks also to Ruth Wiebe: she did an excellent job marshalling the Captains.  Ruthie skillfully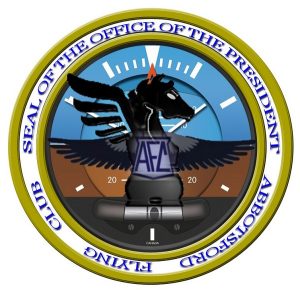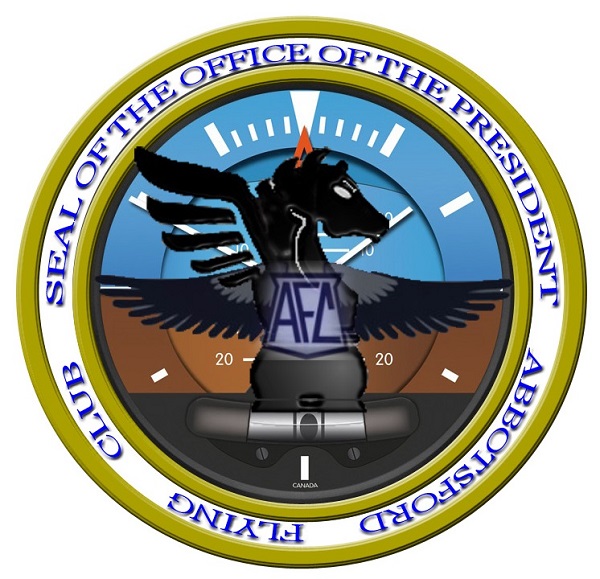 coordinated the efforts of each group and was an effective liaison with the Airshow.  We'll be hearing their reports at our September general meeting.
During the Airshow I managed to take time away from my duties in the campground to circulate around the various events.  I was delighted to find members working, having fun and enjoying each other's company.  I relished taking part or even just observing those little moments of camaraderie and shared goodwill – it's the kind of thing that keeps our club vibrant and attractive.
Year in Review
It's only appropriate to start a reflection of the year with a big "thank you" to those who served on the Board.  I am in awe of the talent, skill and energy of the people I'm serving alongside.  I am honoured that they are part of this journey and I am grateful for their service.  Special thanks to Augie Rinz – great job as Secretary, Aug! Without your organizational skills, experience, knowledge, thoughtfulness and tact, I'd be lost.
Our successes are largely due to the talent and perseverance of the people on our Board and other volunteers who have helped out.  It's only proper that a reflection on our success should start with them.  Here are some of the highlights:
Membership: our number of members is back in a healthier range where it should be. Amarvir Sundher – or as I know him, "the man with the plan" has done a great job in attracting new members and retaining our current members.  He built a strong membership committee and has been using social media effectively to raise the profile of our club.  Most tellingly, reasons for leaving the club have shifted from "I'm tired of Club 'stuff'" (where stuff means "something which has first passed through the digestive tract of a bull") – to more life-related reasons like having to move out of town.
Financial Health: The Abbotsford Flying Club is fiscally healthy again thanks to the skill and a massive effort from our Treasurer, Kevin Mickelby. We scraped pretty close to getting into the red this year because of the position the board inherited, but through careful management of our assets we stayed out of trouble.  Most importantly, the money that was re-directed last year from the aircraft engine reserve has been restored – our aircraft are secure once again.
The Stuff No One Notices … Until They Do: Brian Appaswamy and Warren LeGrice, along with Duncan Poynton, Andy Halychuk and Ton DuCroq have kept the aircraft and the building running smoothly – while making tough choices to help us from running out of funds. The clubhouse and the aircraft are fundamental parts of our club operations and without them, we wouldn't have a club.  Thanks guys!
Aviation: the great experiment with GSBS has gotten off the ground. The team here was amazing – Tom Timm ran a committee to give us assurance on viability, Bevan put in tons of work hours getting the aircraft ready, Warren put on effective ground school training, Dustin made arrangements for people to "qualifly" and Bob Leroux found some critical items to ensure legality.  Thanks to you all.  Personally, I was delighted to get to know Ken McKeen over the course of the GSBS saga – in addition to providing his expertise and work hours, his calmly applied logic and thoughtful approach made sure that everything went smoothly.  Ken McKeen, I am honoured that you have joined our club and I look forward to getting to know you better!
Although the hangar corporation is a separate entity from the club I would like to acknowledge their team, which was led by Steve Stewart. There were many operational challenges which were well handled, such as windstorms etc.  But most of all, I am awed by the demonstration of skills you exercised to deliver the roof replacements and the paving.  These things wouldn't have happened without the leadership, vision and perseverance of Steve and Kevin Mickelby who secured the funds, negotiated the project and oversaw its completion.
Club culture: we've had to recover from a couple of years where meetings consisted of what I call the "Cycle of Indignation". A lot of our members avoided meetings for this reason alone.  This year, after changing the meeting format, we've managed to calm some of the strife of the past by focusing more on the presentations and saving club business for after.  I'd like to thank all our Board members for their efforts to model behaviours that allow for the club to be a place of welcome, fairness and fun.
On a personal note, I can tell you that the journey I'm taking as your President has been one of learning and growing.  I'd like to thank you all for your support, your ideas and your constructive feedback.  My focus this year has been to repair the damage that was done over the last couple of years – I can acknowledge that this hasn't been a complete success; though we have certainly taken some steps in the right direction.  My overall approach is to focus on the positive and find lessons in the negative.  I believe that a club our size should be run using data based decisions rather than emotional reactions; this is why you see me presenting metrics on flying hours and membership, defining the scope for committees and clarifying roles and responsibilities.  I also believe in accountability which, in simple terms, is to treat people like adults.  For example, when it comes to remaining a member in good standing, each member has the obligation to pay their dues on time and attend two thirds of the general meetings.  Nothing short of paying on time will satisfy the former requirement, but an attestation from you that you have attended the required amount of meetings is sufficient to meet the latter.  Communication has certainly been an area of growth for me this year!  I have been working to run better meetings, say things in a way that gets the point across clearly without raising ire, and write coherent columns for the newsletter.  I thank you for your patience in this and welcome any help you may offer!
There is still good work left to do – Warren LeGrice's has an excellent initiative for implementing a Safety Management System, I want to establish an Asset Management program to guide us in our decision making for our assets (aircraft, buildings and property) and I also want to "build our bench".  It is my belief that mentoring and nurturing talents in people works better to build future leaders than harangues and disparagements.
Our election is coming in October, please remember: come to the AGM and vote!
Yours truly,
George