Interview with the Membership Chair Amar Sundher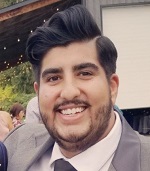 So tell me a bit about yourself:
I've been flying since I was 17 and got my PPL when I was 19. I have a little over 150 hours. GGMA is my favourite airplane – I trained on a 172 and 90% of my hours are on the type; high wing aircraft give you a cooler view in my opinion. I'm in my last year of business school at UFV. I have completed a minor in Aviation and a minor in Communications and I'm now working on my major in Business Administration. I am partner and head of sales at a cedar company here in the Fraser Valley. Other than that, I watch a lot of NFL football and I'm a big Patriots fan – if I'm not flying you can catch me enjoying the game with friends.
I understand that you overcame a few challenges when you started as a Director – please tell me about it:
When I first came on as Director there were some raw feelings in the membership committee and the club in general. The club had a rough year with members leaving. But I came in determined to put a fresh perspective on membership – set up a new positive vibe. Our focus was to create a positive environment. When George came on we ran meetings in a more enjoyable way – it wasn't as taxing anymore. It took some work, and I have to thank my committee Mark, Bob, Dirk, Augie and Ruth; they worked hard and did a great job bringing membership levels up to normal again.
We've heard a lot good feedback from members, new and old, about the membership committee. What can you tell our readers about it?
The membership committee flew under the radar this year – we didn't have a lot of meetings; just when we needed to do it. One thing that worked really well was that Mark Dirk and Aug set up an online membership application. Ninety percent of our new members signed up electronically. It's the new way of doing things. It has more questions than our current paper application and it allows us to go more in depth during the interview process. The interviews are now a lot more informative because the in-depth questionnaire on the online application form helps us to get a better sense of the applicant. Cloud based technology allows committee members to access applications more easily and has made our meetings more efficient as a result.
In just one year you brought membership up from 89 to 119 members – how did you do it?
Basically, the club is a really great and awesome place. It's very marketable. Potential members are buying into a cool club, beautiful aircraft and a support network to pursue flying. It can be easy to get members when we have the right people in place. I really have to thank the committee and the Board for their hard work and support.
Is it true we have more flying members now than ever before?
Yes, it's true! Our new members not only want to enjoy the club and the community, they want to fly the planes. We need more members like that! Who want to volunteer, and want to do some flying; share their passion with friends, family and fellow club members… that's what this club should be all about!
I know you've taken a lot of flak just for being young – yet you stay calm and cool through it all. What advice would you give for new members who face the same kind of thing?
I think there's always going to be people who try to ruffle your feathers – that just comes with life. At the club, we're doing a good job of changing culture. IF you ever think there's something that isn't right, I'm always available to talk. My position as membership chair I feel it's my responsibility to protect our members, please come to me if you're having a problem and together we can try to figure it out. Your words won't fall on deaf ears.
Amar, there's lots of buzz about the Instagram feed you've set up for the club – we even heard about it from the Airshow publicist. What kind of work does Instagram involve?
Instagram is a social media platform which focuses on photo and video– this is what makes it perfect for pilots and the flying club. Our pilots get to see some stunning visuals that translates well to the medium. In the future I'd like to help our members share their stories and experiences online. Our Instagram is growing; it has only been six months and I'm looking forward to watching it grow.
Your committee has commissioned and sold some very nice Abbotsford Flying Club pins. What can you tell me about them and where can I get one?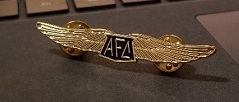 We did a very limited run of AFC wing pins just to test the waters. There's a few left. Get them while you can. Pins are $10, hats are $15. People really seem to like them! Just e-mail me if you want one.
People have been pleased to note that you spend a lot of time volunteering for events at the clubhouse. Is there any event or memory in particular that really stands out for you?
This past year, the airshow was great. I got the opportunity to help in a few different areas (I got to know some of my fellow club members better, and met lots of interesting people) Campground – Ledell with parking; George asked me to bring in young guys; spent time with Jayden & got to know him; Got around and sold some hats and pins, I helped Steve with a couple of things. Steve also helped me with merchandising for the pins and we came up with a lot of great ideas for future. The Campground is an amazing opportunity for the club and were just scratching the surface on the things we could possibly. So many great ideas, but we can only do a few things at a time – with more volunteers I hope we can do more in the future.
If there's one thing you'd like to do at the club next year what would it be?
I want to keep growing the membership. I want to keep up with improving the culture so that it's fun for people. I want to bring in members – not just young ones, people of all ages – who want to fly and contribute to the club and have fun.