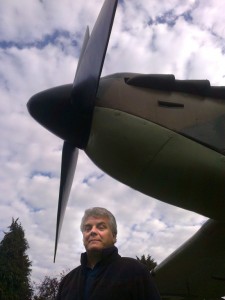 For our General Meeting this month we are fortunate that Langley Museum of Flight have agreed to step in at short notice, after our originally advertised speaker had to back out. Thanks are also due to Duncan for arranging this substitution.
Looking ahead to March, as well as the 'Aerobatics and Upset Training' presentation by Jodi Rueger of CPA and ACBC, we will also Have Parm Sidhu here to give us an update on developments at CYXX. And as well, if Members are interested, we can arrange for a briefing on the various developments that are going on at Coastal Pacific.
One item of news not yet documented is that Keith Wilson is taking over Clubhouse Maintenance from Keith Sim. Keith Sim has looked after this mandate repeatedly over the years and has been responsible for many building improvements as well as ongoing maintenance. Fairly recent improvements include the lounge fireplace replacement, and the overall heating system refurbishment. Keith Wilson will take on the whole spectrum of building responsibilities, from regular maintenance (he has already replaced our vacuum cleaner power head etc. ), to a long term plan for building development (I still want a deck at the back).
As the last item on the agenda for this month's General Meeting I will be providing an explanation of a couple of the decisions made at the last Board meeting – so please be there.
We have already been receiving feedback on how things are working out with just two club aircraft, and there have been suggestions on booking protocol and on flying incentives. These things will be discussed at the March Board meeting. Please continue to provide feedback and ideas. And also in March we will start an open discussion regarding the third aircraft. First we will revisit the need for a third aircraft, and then I expect we will go on to discuss what that aircraft should be.
Finally, on a less administrative note, Gerry Crapo, Richard Bauch and I went to Rowena's on Sunday for their buffet brunch. The price is a little higher than the standard breakfast offering at CYCW etc, but the value is well worth it, but in terms of quality and quantity. You also get to stroll across the golf course, and do a more interesting landing and takeoff than the usual paved airports. So I highly recommend it.
Steve