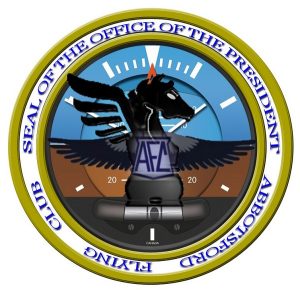 Happy New Year, fellow Abbotsford flying club members!  The New Year means different things to different people. For most people, it means resolutions with the goal of becoming a better person.  On my daily dog walks, evidence of this appears in the form of a flock of joggers who I have noticed running around the neighbourhood.
In the past I used to make a resolution every year to fly more, to eat less, exercise more and work at being a better husband and father.  By the time July rolls around, I would have made a few minor changes but typically I've settled into a groove and the changes aren't as noticeable.  For the past couple of years, I've just started setting out regular times to reflect on how things are going and work out how to make things better.  The constant approach seems to work better for me and gets me to ensure that I'm balancing my duties and the things I value based on the situation at hand – rather than one I may have imagined back in January.
So what self-improvements does your situation allow for?  Are you going to volunteer more?  Are you going to spend more time with your family?  Are you going to try to make new friends?  The holidays provide a time for reflection, but are you prepared to set up times during the upcoming year to reflect, take stock and recalibrate?
With respect to the club as a whole, we have a lot to look forward to this coming year!  We have our special events like Wings and Wheels, First Flights for Kids, the Airshow and a number of weekly TGIFs (some of which follow a theme).  We have a year of flying to look forward to – weekend flyouts, events at other clubs, air races and our new aircraft to fly.  There are also a number of new members who I'm sure it will be good to get to know over the coming year.
I wish you all the best in 2019 – may you be blessed with blue skies and fair winds for all your flights.
Yours truly,
George