Hello, Dear Club Members and Readers, and welcome to a new year!  Welcome, in fact, to a new decade.  We find ourselves once again in January, the time of year when ascetism and mindfulness take over from the hot-buttered-rummy indulgences of December!  It is a time of thoughtfulness and contemplation, when we are wont to make resolutions for the year – and possibly the decade – to come.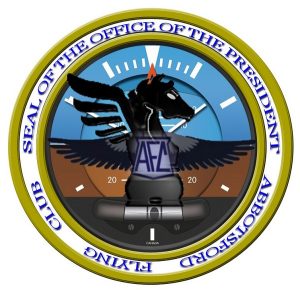 This is going to be another banner year for the Abbotsford Flying Club.  Among the usual things to look forward to this year, such as First Flights, Wings and Wheels and the Airshow, there are new things to look forward to.  Larry Runnals has committed to organizing members to put on a campground for Geocachers.  Our experiment with GSBS is continuing – I am personally looking greatly forward to qualifying on that aircraft and taking her for a whirl.  Our maintenance staff have recently found a few deficiencies with SBS, but have it well in hand to correct them so she'll be up and running soon.  We also have a very talented and capable Board this year – working with them has been a pleasure so far and I expect will continue to yield positive results.  We're looking at setting up a Strategic Asset Plan – the first step of which is to discuss what we value at the club.  I recognize that there can be disagreement at our club – but what better way to come together than having some discussions where we discover the things that we all hold dear?  Tom has written a magnificent article outlining how our constitution, bylaws, written practices and traditions fit together to govern our club.  I have found it enlightening and educational as I'm sure you will.  Also this year, the time capsule buried at the airport terminal will be dug up.  If you're like me, you're burning with curiosity as to what the contents of the capsule may be.
Every year the Chinese zodiac has an animal of the year, Pantone selects a "colour of the year", and Oxford selects a word of the year.  I would like for the Abbotsford Flying Club to have a word for 2020 – convivial.  It is defined as friendly, lively and enjoyable.  Someone who is convivial is cheerful and friendly, easy to get along with.  The root of the word is, loosely translated, "easy and pleasurable to live with".  It goes so much farther than mere, "tolerance" which may be survivable, but doesn't necessarily lead to cooperation.  Convivial, to me, means that we look out for each other and take care of each other's needs – in a friendly and encouraging manner.
Every day we make ourselves: while I was growing up this was a common thing that my Mom would say to me and my siblings.  She always said it in the New Year and at other random times.  It's particularly alarming to hear that saying when you're a teenager lounging around in your pajamas.. "am I making myself into a lazy slob or a decent human being? – Aaack!"   On the surface, she was saying that every day your actions define who you are.  But I've come to realize that what Mom meant was way deeper than that.   It's a message of hope and renewal.   "Every day we make ourselves" isn't just a tactic to guilt you off the couch and do something productive – it's a message of hope because it means that as long as you have days you have ways to change yourself and make yourself into something new.  It's the message of the New Year – you may not be happy with how things are today, but YOU can resolve to make changes for the better.  And you start today; Everyday.  For me, I'd like to make the club into a place where people enjoy convivial relationships, fly awesome aircraft, share fulfilling adventures and good decisions are made for the club well into the future.  What would you like to make the club?  Because … every day we make the club.
Happy New Year!
George