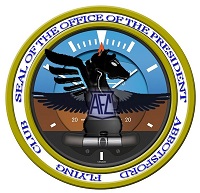 Dear Members,   Here we are at the end of my second – and last – term as AFC President.  My thanks to all the members for your faith and support in granting me the honour of serving for two terms.  I know that at times it has seemed somewhat fractious but to anyone who would consider serving: I can tell you the strife is small beer in contrast to the rich experience and rewarding lessons of serving on the leadership team for the club.  For me, just knowing that the club is there is sufficient reward.
I've met some really cool people, gotten to know some members a lot better and had some really amazing experiences.  In particular, I've been really impressed by the women in our club this year.  Ladies, you've demonstrated your spirit of adventure in aviation and drive to build skills and done some wonderful volunteering.  We need more like you!
It's just too hard to pick a single favourite experience I've had as your President – so here are some top ones:  The Airshow last year was amazing; I really enjoyed learning how the campground runs.  This year we had a heartwarming moment when we hosted Patricia Spronk for the dedication of the John Spronk Memorial bench.  I was especially honoured to participate in the opening of the time capsule; writing the message to go in the next capsule for 2070 was cause for a great many reflective moments for me.  Many thanks there to Steve Stewart and Millie Watson who did an incredible amount of research and, of course, Lorenzo, who helped Steve with the explorative search for the capsule.
I'd like to extend a special thank-you to the members of my Board.  Kevin, Tom Timm and I won't be running, but the remainder of the Board members will be volunteering again.  If you have enjoyed being at the club over the last couple of years and would like to continue in the direction of "flying, friendship and fun" I would urge you to vote them in again.
To Dirk Sieber, who served as VP, it was really great getting to know you – your insight, good judgement and friendship have meant a lot to me.  To Kevin Mickelby, who served as Treasurer, we simply couldn't have done this without you; you have my eternal thanks and that of the club – you skillfully managed to move the AFC out of the red and back into the black.  Augie Rinz, you have been a fantastic Secretary, fast, efficient, competent and you were a great help when I needed someone to bounce ideas off of.  For the Directors – Amarvir, it has been a pleasure to see you mature into the role; your care and diligence on the membership file has reaped rewards evidenced by a cohort of excellent new members – I think that no matter what endeavour you pursue you will prevail!  Luciano Nisi, you're definitely one of the most dedicated and safety oriented people I know.  I know that we've sometimes had our disagreements but through it all I've never forgotten your good intentions and all the hard work you've done!  Tom Timm – your insight and sober second thought has been invaluable!  I didn't know you well before but I'm certainly richer for serving with you; you are an extremely competent person in possession of a keen mind and a wicked dry wit!  Tom Grozier, you have always had my admiration and regard – and now it has only grown.  You've had a hard road in 2020 – I hope that this coming year is better; you and Kevin Mickelby are the two best Treasurers we'll ever have.  Lastly, I'd like to thank Brian Appaswamy, although he left the Board he has shown integrity and character by continuing to maintain the club aircraft throughout some of the most hectic flying days of the year!
Safe flights and stay healthy,
George Aung Thin
President
Abbotsford Flying Club